Clara International Aesthetic College Sdn Bhd (145450-W)
With the objective of expanding the network of beauty professionals to an international level, our Clara International Education division was set up to educate individuals with well rounded modules in beauty care across the globe.
Over the years, we have successfully trained over 10,000 students, making them the most sought after beauty professionals in the beauty industry.
CLARA INTERNATIONAL AESTHETICIAN PROGRAMME (CIAP)
Duration: 10 Months
Location: Petaling Jaya, Selangor / Ipoh, Perak
Price: RM 30,888.00 (Installment Plans Available)
Clara International Signature Aesthetician (CISA)
CIDESCO (Switzerland)
CIBTAC (UK)
GLOBAL (Australia)
SKM I & II (Malaysia)
Request product brochure by calling/WhatsApp +6012-3920150 or email admin@clarainternational.edu.my
Course Intake: February 2022 & May 2022
Professional Hygiene & Sterilization

Consultation & Body Massage

Intermediate Facial Treatments

Anatomy & Physiology of Body I

Anatomy & Physiology of Body II

Electrical Facial Treatments

Heat Therapy and Light Treatments

Electrical Body Treatments

Anatomy & Physiology of Head, Face & Neck

Practical Advanced Facial and Body Treatments

Fundamental Business Studies

Professional Aesthetic Treatments I

Dietary Control & Exercise

Professional Aesthetic Treatments II

Make Up& Eyelash Treatments
Clara International Diploma
The widest and most complete coverage if International Aesthetician Training and intensive case studies. Additional training in anatomy, psychology, nutrition, salon knowledge, marketing, management etc are included.
CIDESCO International Diploma
Comite International D'esthetique Et De Cosmetologie Provides aspiring individuals with the International Aesthetician Training authorised by CIDESCO International, Zurich, Switzerland.
U.K. CIBTAC Diploma
Confederation of International Beauty Therapy and Cosmetology Diploma Conferred by British Association of Beauty Therapy and Cosmetology, this diploma covers many aspects of International Aesthetician Training.
World Complexion Certificate
Designed specially for those who wish to elevate their capabilities through the knowledge of creative and professional make-up, appropriate attire/ development and social etiquette.
GLOBAL Diploma
Global International Professional Beauty Therapy and Cosmetology. Recognised for evaluating and examining Professional Beauty Schools in order to continuously upgrade the standards in the Beauty Industry.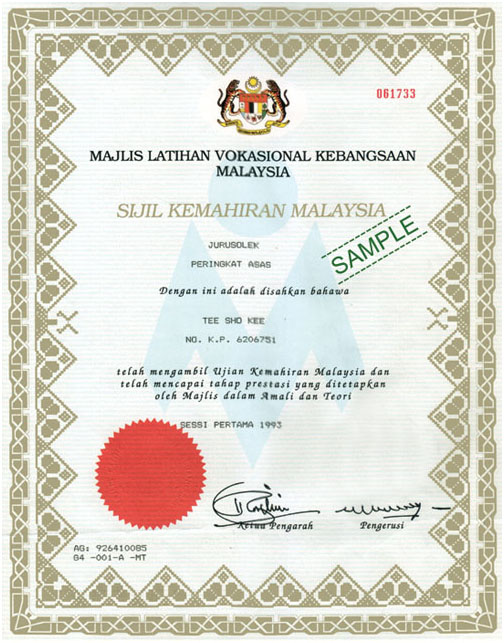 Sijil Kemahiran Malaysia Certificate
Conducted by the Malaysian Ministry of Human Resource. This national certificate provides for the most basic to higher level of Aesthetician Training. This system trains individuals to be competent beauticians in an approved MLVK Accreditation centre.
Professional Artiste Make-Up Diploma
This is an extensive make-up course which caters to individuals who wish to achieve higher professional status.